Whether you're desert racing in Baja, blasting through sand dunes, cruising a dusty fire road, or hitting the short course track, our MAC Air helmet pumper is a must-have for comfort and dust control.
The Mac Air Pumper System is available in two-person or four person models, and available as a standalone pumper system, or race-ready in our pumper bundle. From start to finish, the MAC Air is built to perform. High pressure, high volume, lightweight construction, micron air filtering system, and waterproof connectors make the MAC Air the ultimate in helmet pumper systems.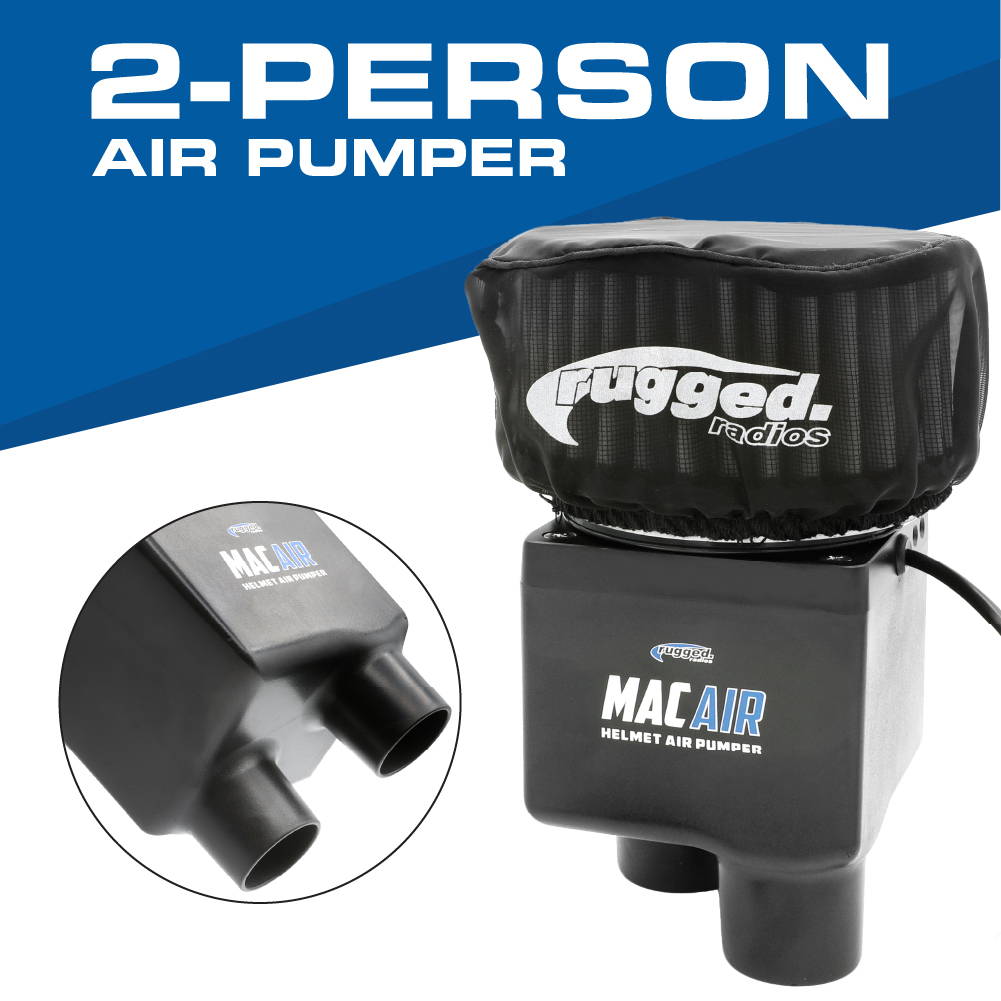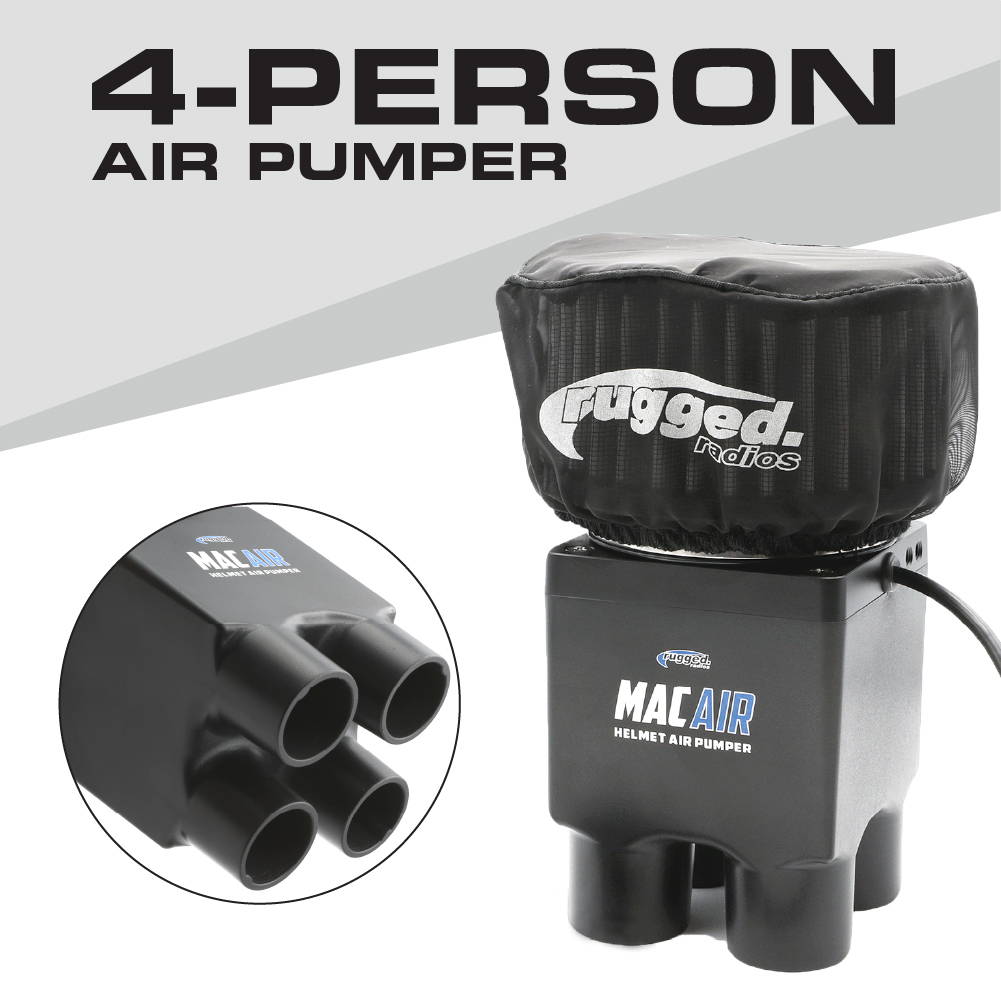 Injection-molded ABS polymer housing
Washable dry media air filter and pre-filter
Waterproof power connector
High duty cycle life motor
12' power cord
Injection-Molded ABS Polymer Housing
The MAC Air Pumper housing is constructed using injection-molded ABS polymer and optimized for maximum airflow. This high-volume housing utilizes a proprietary designed, high-static pressure fan. This combination gives the MAC Air Pumper more pressure and more volume than any other helmet pumper currently available! The MAC Air takes helmet air pressure and air volume to a new level.
Keeping your air cleaner, longer was also a focus in the development of the MAC Air System. It utilizes a dual filtering system that increases overall performance and helps prevent premature clogging of the filter. The external pre-filter utilizes uniform micro-perforations that filter out most dust and debris before it reaches the primary dry media filter. Both filters are easily cleaned utilizing a mild detergent like dish soap and simply agitating the filters in the water and rinsing.
Care and Cleaning for your Pumper, Filters, and Hoses
Learn how to properly care and clean your helmet air pumper, filters, and the pumper hoses. Proper care ensures the best performance of your helmet pumper system.
Installs Just Got Easier: Rugged Radios Install for MAC Air Helmet Pumper
Follow along with Steve B, as he installs a MAC Air helmet air pumper in the Rugged Garage!
MUST-HAVE MAC AIR BUNDLES & ACCESSORIES
Take control of your airflow with the VSC! This control module lets you adjust the pumper motor speed to increase or decrease the airflow to your helmet and is highly recommended for use with our powerful MAC Air pumper systems. Turn your pumper output down for staging or when you're parked, and instantly turn it back up for high pressure ventilation when it's go time.
Quickly attach and detach your pumper hose with a simple magnetic connection! The MAC-XC System uses powerful Scosche magnets to quickly connect/disconnect your pumper hose to a coupler base mounted to your roll bar for easy transitions in and out of your car. Never get tied up in pumper hoses again!
Double the life of your air filter with our XL activated carbon filter for MAC Air! This specialized filter eliminates odors and pollutants, for a fresher helmet air pumper experience! The multi-layer breathable media combined with a unique filtration technology results in a superior filtration system.
Feels like your pumper hose isn't even there! The MAC-X is capable of stretching between 2-6ft and manually collapses back to its original shape when not in use. Its enhanced flexibility allows multiple point adjustments between the blower system and helmet. It also includes durable cufflink ends to stay tightly connected to the helmet and pumper system, ensuring that the hose won't fall off even in the harshest of racing environments.
WATCH THE WHOLE MAC AIR PUMPER SYSTEM PLAYLIST