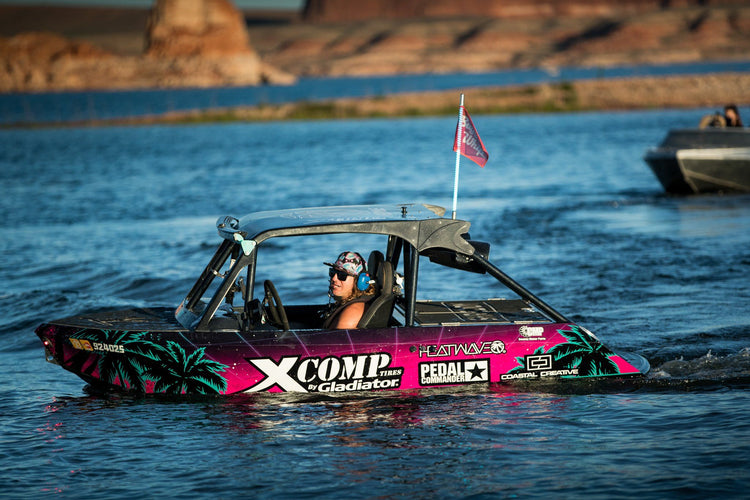 Mini Jet Boat: Full Send
Say what you will about the year 2020, but thanks to Mini Boat Mafia, we all have something to smile about. What started as a fun idea quickly turned into a large-scale collaboration between some of the most exciting companies in the outdoor / recreation industry. Rugged Radios happily joined the team, made up of SkyPixel Media, PRP Seats, Titan Fuel Tanks, JetStream Adventure Boats, Ultra Deck, with still photographs by Black Hat Studios.  The icing on the cake came in the form of adrenaline junkies and jet boat drivers David Hartman, Nick Nelson, and Blake Wilkey. 
The project had one simple goal: full send. 
Mission Accomplished
Between pushing the limits of the mini jet boats and ultimately turning the shoot into a game of "who can go bigger," there were plenty of white-knuckle moments. Big sends in the video include at least one instance of Hartman going a little too hard and spinning his boat mid-air. What else is there to say? Click the video below and hold onto your seat.
Rugged Radios : Stay Connected
During the shoot, our radios and intercoms took center stage, ensuring the crew stayed connected and in communication whether in the boat or across the pond. These jet-powered boats are simply too loud for normal conversation, making our RRP696 Intercom critical for in-boat communication between passengers. For boat to boat communication, our mobile & handheld radios were the perfect answer, allowing the filming crew and drivers to talk seamlessly and, ultimately, get the shot. 
When you're launching a mini boat through the air, a typical headset won't make it through the landing – even if your boat does. The behind-the-head style of our H42 Ultimate headset stays securely in place, and keeps the communication lines open through all the rough and tumble.
Whether you need to outfit your mini jet boat, UTV, motorcycle, or Overland rig, we have the gear you need to Go Further and Connect To Anything.  
Photographs by Black Hat Studios