Pink Radio Campaign for the Fight Against Breast Cancer
UPDATE: 10-24-22 4:24pm - ALL RADIOS HAVE BEEN SOLD
Thank you for supporting this amazing cause!
We will provide followup information shortly.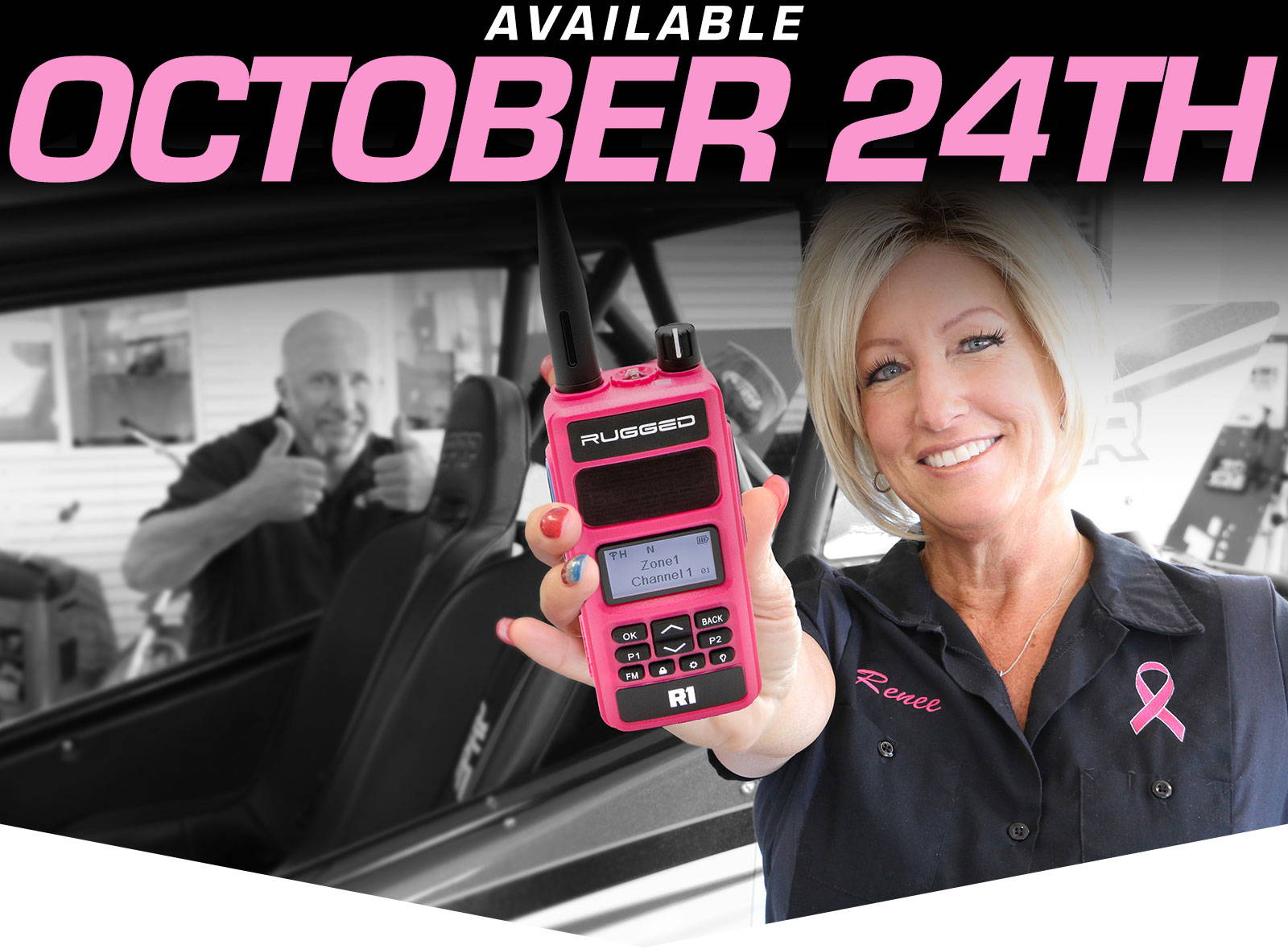 Every October, Rugged Radios teams up with race driver Renee Hudson to raise money in the fight against breast cancer.
Every time Renee is behind the wheel, she's raising funds. All of the money she raises goes to her local mammogram program at The Cancer Association of Havasu. Early detection is so important!
When you buy a Pink Radio all proceeds (including tax and shipping!) go directly to the Cancer Association of Havasu. Last year we raised over $30,000 - let's make that number even bigger this year.
Pink Radio Day Info
• Monday, October 24th, 2022 at 10 AM (Pacific Time)
• Limited quantities available
• Online orders only
• Limit 1 per order, per customer
• NEW THIS YEAR: Pink Radios will be available in the GMR2 (GMRS) and R1 (VHF/UHF)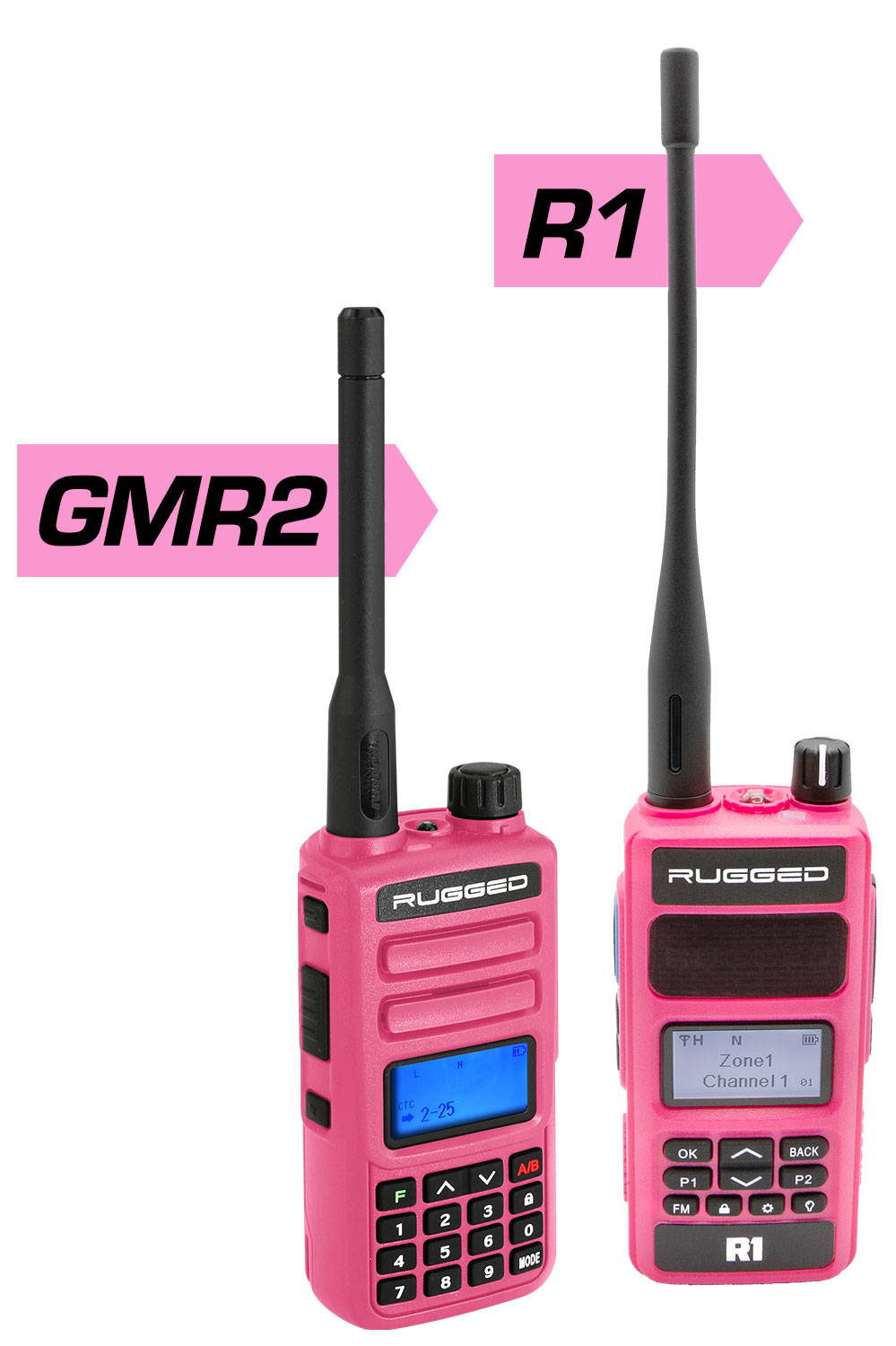 Be sure to follow us on social media! This year, Rugged Radios founder and President Greg Cottrell will be with Renee Hudson in Havasu, streaming live online. In addition to online orders, Greg will be offering a short run of pink radios for local pickup in Lake Havasu! Details to follow!

This year, shoppers will have the choice of choosing a pink R1 (VHF/UHF) handheld or a pink GMR2 (GMRS) handheld.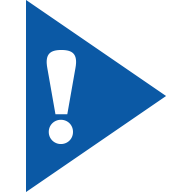 How to decide between GMRS OR Business Band
Before purchasing a radio, ensure you know what type of radio your friends, club, riding group, etc., are currently using. If you want to talk to them you need to be on the same band of radio. If your group is just getting started, and you aren't racing, we highly recommend using GMRS!
GMRS is easy to use and walkie-talkie compatible! The frequency operates well in heavily wooded areas, or any environment with obstructions including canyons, mountains, and forests.
Examples of Use:
UTV Recreation
Overland
Jeep
Hiking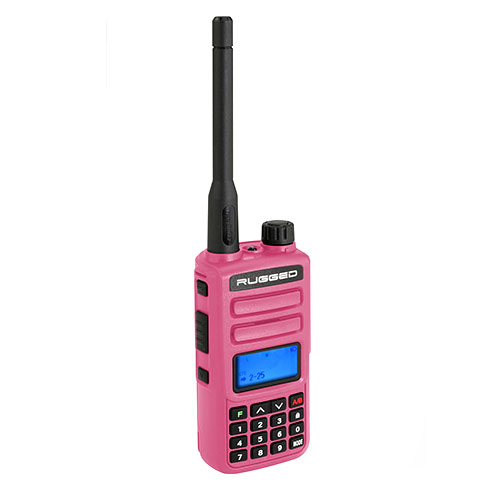 ABOUT BUSINESS BAND (VHF) RADIOS
Business Band (VHF/UHF) is used by professional race teams for communication in offroad and desert racing! Great for professional racing, industrial, manufacturing, agriculture and farming operations.
Examples of Use:
UTV offroad racing
Professional race teams
Commercial & industrial
Agriculture