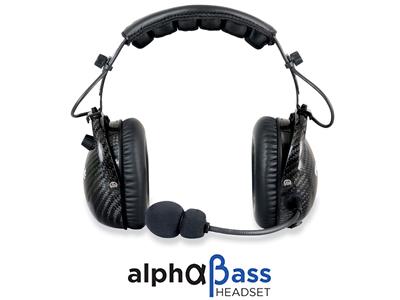 Rugged Radios AlphaBass headset takes music listening to a completely new level! High fidelity, full range speakers and adjustable amplified bass speakers pack a powerful range of audio performance.
The AlphaBass headset is constructed from light weight carbon fiber for durability, and engineered for perfect audio resonance. Each ear cup contains a proprietary bass speaker partnered with a high fidelity speaker. This combination creates a rich and full sound so when the bass hits — you feel the boom. If the bass is too much, simply turn the dial on the ear cup to adjust the bass level.
Developed to enhance your offroad communications experience, the Rugged AlphaBass Headset also provides all-day comfort with a deluxe pillow top head pad and leather ear seals. Not only is this the best sounding headset in the industry, but it's lightweight and extremely comfortable to wear for long periods of time.
Additional features:
(2) Powerful bass speakers
(2) Full-range speakers
5-Pin port to connect to offroad intercoms
Adjustable bass amplifier
Intercom volume control
Dynamic noise cancelling mic
Carbon fiber construction
Easy adjustable headband
Soft leather ear seals
Each headset comes in its own headset bag and includes charging cable.
Plain and simple, the Rugged AlphaBass headset packs a punch. Put it on, turn it on, and feel the music. Never before has music performance sounded so good in an offroad headset. Experience the power of AlphaBass!
MSRP: $359