Rugged Radios is the OFFICIAL communications of the California 300 Off-Road Race!

Barstow, California • OCTOBER 12th - 16th
    Rugged Radios will have full race support and a booth during contingency and tech inspection for the inaugural California 300!

    Racers - Call us at Rugged Radios HQ and get your components ahead of time! 805-541-1696

    Major off-road desert racing returns to Southern California after more than two decades, and Rugged Radios is proud to serve as the Official Communications Partner of the Inaugural California 300.

---
RUGGED RADIOS: OFFICIAL COMMUNICATIONS OF THE CALIFORNIA 300
    This is what Matt Martelli and Mad Media had to say:
    California 300 officials are pleased to welcome Rugged Radios as the Official Communications Partner of the inaugural California 300, coming to Barstow, California on October 12-16. As part of the agreement, an extension of the previous relationship between the brand and Martelli Brothers events at the Mint 400 and UTV World Championship, Rugged Radios will be on site at the California 300 midway in Barstow, and numerous racers will rely on Rugged Radios for communications throughout the race event.
    "We're thrilled to extend our long-standing relationship with Rugged Radios into the inaugural California 300," said California 300 CEO Matt Martelli. "As our Official Communications Provider, Rugged Radios equips us with the tools we need to keep our event running smoothly, as well as keeping racers safe. Be sure to check out the latest and greatest Rugged Radios product on the California 300 midway throughout race weekend!"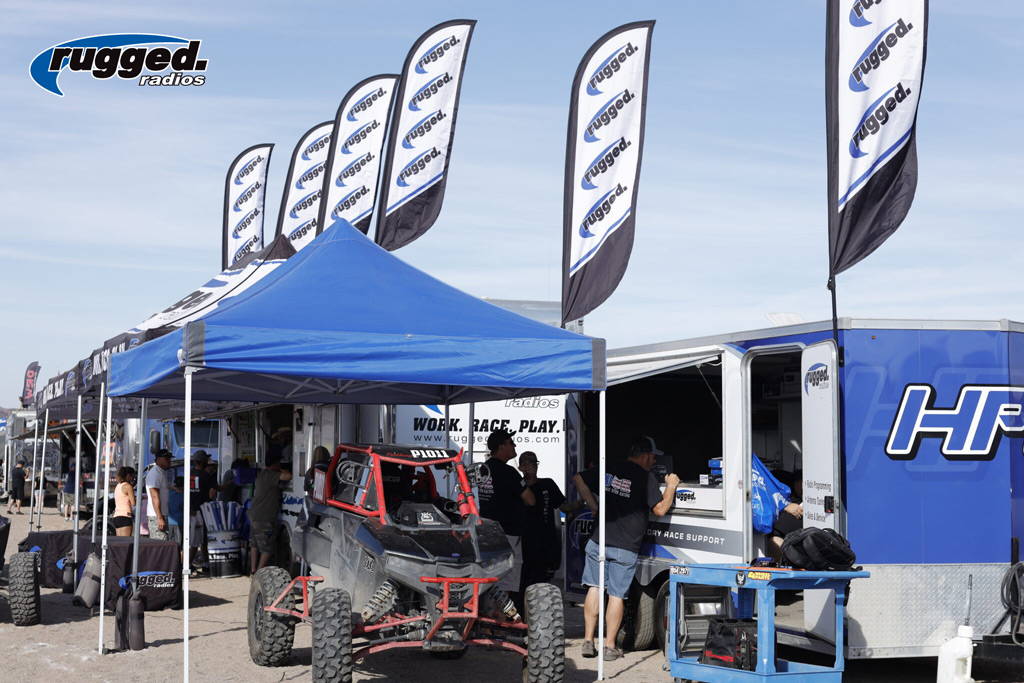 When Greg Cottrell, Founder and President of Rugged Radios, started the company, he set out to revolutionize the offroad communications industry. That dream grew into the communications giant that is Rugged Radios today, manufacturing communications for Work, Race, Play. We build our products to be rugged tough, engineered with the finest components, using our own proprietary technology that exceeds other brands. We're passionate about communications and our product line reflects our dedication to helping our customers Go Further.
    Whether you're ripping through Baja in your UTV, hitting the single track with your friends on the weekend, or taking flight in your Cessna you need communications you can trust. With nearly 30 years experience in manufacturing high noise environment communications, Rugged Radios boasts a full line of communication products. From industrial job sites to agriculture to fire & safety, Rugged Radios offers Communications For Any Environment.
---
OUR VERY OWN JADEN COTTRELL WILL BE CO-DRIVING FOR ROBERT JOHNSON AT THIS INAUGURAL EVENT!
---
    The California 300 is a new world-class off-road desert race built to showcase the best off-road racers in the world. The multi-day event launches October 12-16, 2022 in Barstow, CA and will feature a desert cleanup, multiple days of prerunning, a public poker run, an off-road festival, and two days of spectacular off-road racing on a fast, technical and punishing 75-mile race course.

    An estimated 25,000 off-road and recreational enthusiasts are expected to watch over 400 race teams in 40+ classes go door to door, while Mad Media produced livestream coverage is beamed to over 500,000 viewers worldwide. The California 300 is brought to you by the team that has rebuilt The Mint 400 into one of the most successful desert off-road races in history.
---
---