Chase Truck Communications

chase truck communications to keep connected with the race driver

Keep connected to your race driver and co-driver with the best in communications. Explore these race proven communications to get your team the finish line first!
With powerful handheld and mobile radios, stay in touch with your team on the course or back in the pits.
Add external speakers for those long waits outide the vehicle and never miss a transmission.
We're here for the racers and support teams!
powerful, clear, and easy to use chase communications

We've selected the top equipment recommended for chase vehicles below. It's the same equipment we put into all the vehicles for the top Rugged race teams. Shop long range radios and race essentials here.
CHASE TRUCK MOBILE AND HANDHELD RADIOS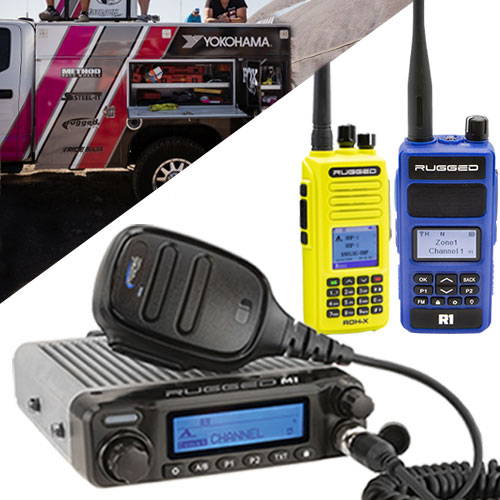 Mobile 2-way radios
Handheld 2-way radios

External speakers
Waterproof M1 mobile radio
Waterproof RDHX handheld
Dual band VHF and UHF options
RACE SERIES ANTENNAS AND COAX CABLE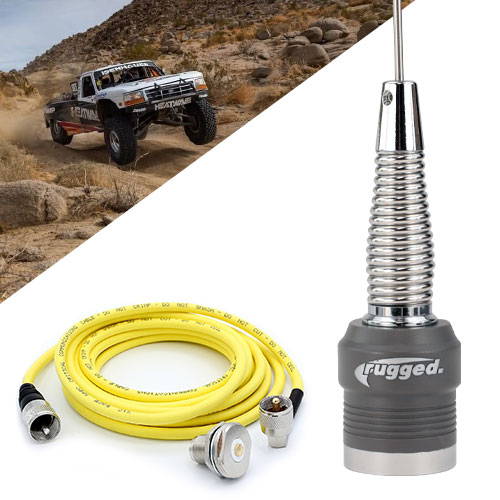 Engineered for race performance
Improve transmit and reception
Triple shielded cabling
Race spec developed
Nickel plated mounts
CHASE TRUCK MOBILE AND HANDHELD RADIOS

The waterproof M1 represents the best radio we've ever produced. Not afraid of water. Not afraid to race. Develeoped here at Rugged Radios, the M1 IP67 radio offers incredible performance with superior digital audio clarity. Both the R1 and waterproof RDHX offer digital and analog operation for the best in audio clarity and radio compatibility.
CHACE TRUCK ANTENNAS AND COAX CABLE

Race Series antennas and coax cables are engineered to deliver the best radio performance for clear and reliable communications.
BASE CAMP AND PIT SUPPORT RADIOS